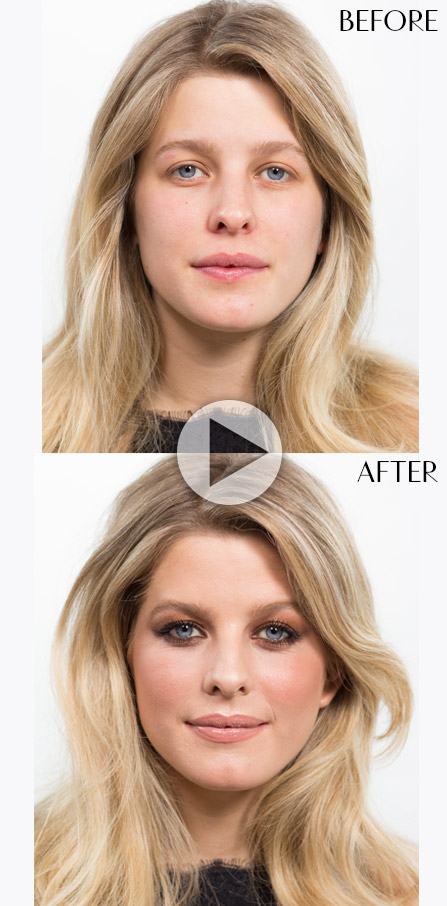 Date Night Looks
with Lydia Baylis
What does it look like?
* THE PRETTY DATE LOOK; Soft, demure, and darling. This date look nightingale-sings of girl-next-door, butter-wouldn't-melt natural beauty.
* THE SEDUCTION LOOK; Dial up the sex appeal. Transition into an inimitable, saucy, harpy-esque seductress.
Who's it for?
That person you want, adore, worship, desire.
Wear it to?
The Wolsey, Cabaret, Kitchen Floor, La Bodega Negra, Secret Supper Club, Bed…
How To Recreate
* THE PRETTY DATE LOOK
1. Instantly turnaround tired skin with my Magic Cream, and illuminate with Wonderglow and Light Wonder foundation to create a flawless base.
2. Use the Retoucher Pen to conceal any blemishes or undereye circles, and fix in place with Airbrush Flawless Finish Powder.
3. Brush up the brows and fill with Brow Lift in Grace K.
4. Work The Audrey eye liner along the top lash line, flicking out into a feline flick at the outer corner, and along the lower lash line too.
5. Shade the socket line with the Enhance shade of The Sophisticate Luxury Palette. Mix the Enhance shade with Pop shade & smoke the liner; define in a V shape on the outer of your eye.
6. Next curl the lashes using my Life Changing Lashes and apply lashings of Full Fat Lashes Mascara.
7. Dust the sculpt shade of the Filmstar Bronze & Glow across the nose and onto the cheekbones using the big Bronzer Brush for added warmth.
8. For a very subtle glow apply both shades of my First Love blusher onto the apples of the cheeks.
9. Line the lips with Pillowtalk lip liner and fill with K.I.S.S.I.N.G Lipstick in Bitch Perfect using my square-tipped Lip Brush
* THE SEDUCTION LOOK
1. Intensify the socket line with the Enhance and Smoke shades of the Dolce Vita Luxury Palette using the Eye Blender Brush.
2. Use the Eye Smudger Brush to blend the colour into the upper and lower lash line.
3. Elongate the top lash line with Rock n' Kohl in Barbarella Brown.
4. Add the Pop shade from the Dolce Vita Palette to the centre of the eyelid and blend.
5. Reapply a layer of your Full Fat Lashes to open up the eye.
6. Pop a touch of the lightest shade of the Dolce Vita Palette into the inner corners of the eyes.
7. Follow the hollows of your cheeks with my Powder and Sculpt brush dipped into the Sculpt shade of the Filmstar Bronze & Glow.
8. Add a sultry, sexy shimmer to the cheekbones with Bar of Gold.
9. Finish the look with a slick of my new Bardot Beige Lip Lustre.
Shop The Trends